Presentation guidelines
Presentation Guidelines
Oral Presentation
Oral presenters will have 15 minutes for presentation, followed by 4 minutes for summary and question & answer (Q&A), and 1 minute for speaker change. The timing will be strict, and session chairs will be requested to stop speakers from exceeding the 19-minute presentation slot. Presenters should introduce themselves to the session chairs during the break before the start of their oral session.
Speaker check-in room
Location: MR 1.07
Presentations must be submitted on a USB stick at the Speaker Check-In Desk (at least an hour before the scheduled session) during the designated hours to ensure that the talk is accompanied by slides. The operating hours for speaker check-in room are as follows:

Monday, September 3, 2018: 09:00 - 18:30
Tuesday, September 4, 2018: 08:00 - 17:00
Wednesday, September 5, 2018: 08:00 - 19:00
Thursday, September 6, 2018: 08:00 - 16:30

Presentation format and room facilities
Speakers are required to use the computers provided by the conference organizers for their oral presentations. Personal laptops may not be used. The laptops provided by the organizers are equipped with the following:
Windows i5 Laptops with OS - Windows 7
Acrobat version - Adobe 11
PowerPoint Version - MS Office 2013
Video player - VLC player
Browser - Google Chrome
PowerPoint or Adobe PDF are the accepted file formats.
The aspect ratio of projectors will be 4:3.
It is recommended that multimedia, sound, or video files are embedded in the presentation. If, for some reason, this is not possible, then they must be provided at the speaker check-in together with the presentation file and clear instructions about which presentation file they belong to.
Speaker tips
Please arrive at your presentation room at least 10 minutes prior to the session start time in order to familiarize yourself with the stage set-up (e.g. laser pointer, remote slide advancing etc). Please occupy the front-row seats, which are reserved for the presenters.
The Session Chair will introduce you as well as monitor the length of the presentation. Mobile phones must be turned off while you are presenting. Mobile phones even in silent mode might cause feedback with the microphones. A laser pointer and slide advancer will be available at the podium for your use.
Please note below the presentation time and how the speaker timer works:
Green

= Talk Time

Yellow

= Summary & Q&A

Red Flash

= End Talk
15 minutes
4 minutes
1 min (Light Flashes)
Poster Presentation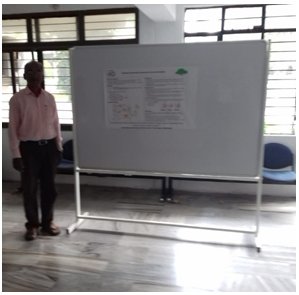 The poster boards are of size width 72" x height 48" (width 182 cm x height 122 cm). Material to affix your poster to the poster board will be available on site.
Presenters are advised to mount their posters 15 minutes before the start of the session, and remove it after the session ends. Posters have to be removed after the end of the session. Conference organizers will not be responsible for posters left behind after the session ends.
At least one of the authors must be present at the poster during the designated session. This will help the session chair to identify the presenter and seek any clarifications should the need arise.
Suggested poster format

Posters should be easy to read at a distance of 5 feet (1.5 meters).
A poster printed on one large sheet of matte or semi-gloss paper is preferred. Please avoid pinning up A4 or A3 sheets of paper.
Include the title of the presentation in large font, the authors' names, and the institution(s) where the work was carried out at the top of the poster.
Avoid lengthy paragraphs, provide information in distinct clear and short bullet points.
Poster numbers will be provided on the poster boards. You do not have to provide space for the poster number on your poster.
It is advisable to have an introduction and summary/conclusions section.
Format text with double spacing between lines.
Poster design recommendations
Title (no smaller than 72 points, preferably in a font sans serif such as Helvetica or Arial)

Author names (no smaller than 36 points, preferably in a sans serif font such as Helvetica or Arial)

Affiliations (including city and country, no smaller than 26 points, preferably in a font sans serif)

Abstract: The abstract presents the main results succinctly.
Body: The body of the poster will describe background, methodology, results, and interpretation. The text in the body should be no smaller than 16 points and preferably in a sans-serif font such as Helvetica or Arial.
Graphics: Graphics are essential for an effective poster and should be accompanied by captions. The captions should be no smaller than 14 points and preferably in a sans-serif font.
Conclusions: Conclusions should be succinct and provide a clear "take-home" message.
Recommended printer for posters and other print material
If you wish to print your poster in Hyderabad, we recommend that you contact the printer service:
M/s. Shakthikala Printers, Hyderabad
Email: avinash@shakthikala.co.in
Phone: +91 99493 51777

Shakthikala offers poster printing and delivery at Posters Help Desk in Halls 4, 5, and 6 (Exhibition Hall) at HICC (Conference venue). Printing orders can be placed via email on or before August 31, 2018. The accepted file format is a high-resolution PDF/CDR in ready-to-print format. Payment to be made in advance through a bank transfer, the details of which will be provided along with the invoice on the receipt of the order. Below are the printing options and costs.
Poster size 33" (H) X 46" (W)
Printing on non-tearable material or cloth – INR 1,600 + 18% GST
Printing on 100 GSM paper – INR 950 + 18% GST
On-site Printing Orders: Printing orders can be placed on-site at the Posters Help Desk by making the payment either by cash or by card. It is advisable that the orders be placed one day in advance of the scheduled poster presentation.
Show-and-Tell Presentation
The authors of Show-and-Tell presentations are expected to make a poster presentation showcasing their contribution. Poster boards similar to those provided in regular poster sessions will be available. Every Show-and-Tell presentation must be accompanied by a demonstration. A table will be provided in front of every poster board to setup the demo. Electric plug sockets will also be provided to charge computers or laptops or any other equipment needed for demonstration. Wi-Fi will be available in the Show-and-Tell room.